The action log is an overview of everything happening on your Webshipper account at any given time.
1. Opening the action log
First, you have to expand your user profile by clicking the 'User' icon in the bottom left corner of Webshipper, right below the Print icon: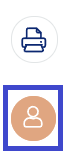 After expanding this menu, click 'Your user' to open the User Settings page: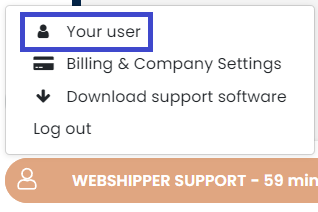 When the User Settings page opens, you have to press 'Action log' in the top right corner:


You should now be located in the Action Log page on your Webshipper account, which will look something like this:



2. Using the Action Log
The Action Log will detail essentially every change made on your Webshipper account, whether it be changing order channel/carrier settings in the 'Connect' menu to creating or deleting orders/shipments.
By default you will have four tabs with pre-configured filters:




All: Will show everything happening on your Webshipper account.
Shipment:Deleted: Will show all shipments with the Action: Delete and Entity Type: Shipment.
Order:Deleted: Will show all orders with the Action: Delete and Entity Type: Order.
User-email: Will show all actions made with the user currently logged in and viewing the action log.
If any of the pre-configured filters don't suit your needs, you can always set up your own filter by clicking 'Add filter' and configuring the checks you need:



3. Entity Types
To properly filter on specific actions, you need to input specific Entity Types corresponding to the action you wish to review. It is important to write them exactly as shown in the overview below with capitalized letters.
The most commonly used Entity Types are the following:
Order
Shipment
OrderChannel
Carrier
ShippingRate
SlipTemplate
MailTemplate
Automation
If you need a specific Entity Type not listed above, please contact our support.
4. Entity ID
If you need to find a specific ID on an Entity Type, all IDs can be viewed from the browser URL address when opening each Entity in the Webshipper platform.
An example can be seen here for a Shipping Rate opened on an Order Channel through the 'Connect' menu:

In the URL we can see the order channel used has ID 1 and the shipping rate used has ID 12.
The same rule goes for every other Entity Type in Webshipper, so if you need to gather this find the Entity in Webshipper and check the URL address.