Start shipping with Budbee by following this simple guide

About
Budbee is a carrier that offers SameDay deliveries as a service for your customers. It is fairly simple to set up Budbee as a carrier in Webshipper. All the information you need is provided by Budbee when signing up to use their services.
Important! the setup is conditioned upon if you are using the Budbee plugin or not. Hence all the fields are optional. If you are using Shopify and Woocommerce, you will most likely need the Budbee app as well. If you do not have the app, then the fields are mandatory to fill in as much as possible.
Fields to enter
When creating BudBee as a carrier, there are seven optional fields you can fill in:
Settings
Box delivery key
Box delivery secret
Box delivery pickup-id
Other Settings:
Nextdaý key
Nextday secret
Sameday key
Sameday secret
Nextday pickup
Sameday pickup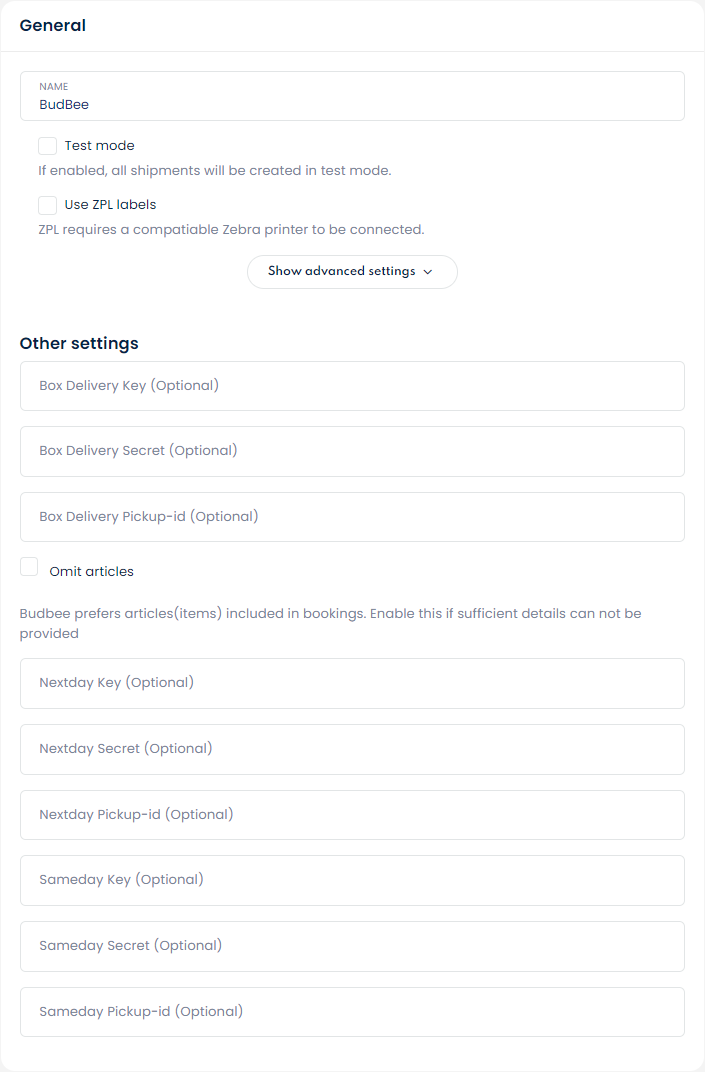 You insert the corresponding API key and secret, depending on which service you want to provide to your customers.
The Pickup ID is BudBee's way of finding out where to pick up your parcels. You can differentiate between SameDay and NextDay here as well.
If not using the budbee app, then the Nextday key, Secret and Pickup id will need to be filled in, with the same info as box delivery.
Shipping rates
Once you have connected to your carrier, you can start building your desired shipping rates with each of the services available on the carrier.
Simply navigate to Connect > Order channels > Select your channel > Add Shipping rate.