1. Find billing & Invoices
When you want to get an overview of the billing of your Webshipper account, click on your name in the bottom left corner and press 'Billing'.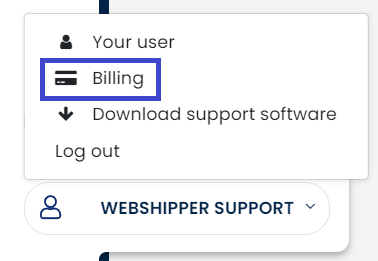 In the url of your browser, it should say: https://account-name.webshipper.io/billing


In the billing overview of your Webshipper account, you are able to:
See your current subscription plan and billing period
Change subscription plan with effect from next coming billing period
View your account balance together with payments, invoices and credit notes
Add a credit card for your subscription plan
View and print documents in relation to your Webshipper account.
2. Change subscription plan
If you wish to change to a different plan visit https://webshipper.com/pricing/ to see all the plans available. If you are in doubt or have any questions regarding your subscription, please contact our sales department here.