If you are using Bring to create Norwegian return shipments, you have the option to create return shipments with a link to a QR code instead of printing return labels. You can send the link via e-mail or SMS to your end customers. If your customer needs the return, they simply bring the provided QR code to a post office where they can print the label.


The QR code service is available for the following return products:
Retur ekspress
Retur fra hentested
Retur pakke fra bedrift
It requires an agreement with Bring to use the QR code service so it must be activated by nShift Customer Service. Once it has been activated, it will be available under Services.
Example from On-premises Production view: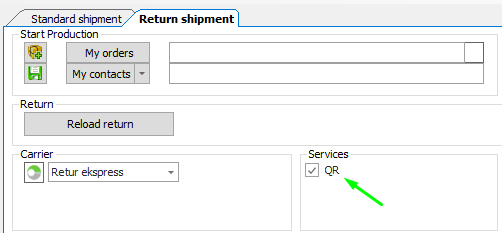 When you use the QR service, a QR code document will be created. The document will not be printed but can be attached to Mailback or Print to file. It can also be retrieved by using the Portal API.
A link to the QR code will be available in the QR code field (eSrkQRCodeLink) which can be added in Mailback and SMS or exported and used in your own systems. If you open the shipment in On-premises, you will be able to see the link in the Shipment view:




If you add Sender email (the email of your customer since this is a return shipment), Bring will also send an email with the QR code and some additional information on how to use it.
Articles about Mailback:
Articles about SMS notification: