A brief introduction
You can use this manual if a connection has been made for you between Exact online, Transsmart and your carrier(s).
Note: You are never allowed to adjust or add to the configuration, because a back-office configuration is needed for this.


1. Settings in Exact Online
These settings have to be entered in Exact Online only once. You will need rights in Exact Online to carry this out.
Click on your administration on the top left-hand side and choose for Settings.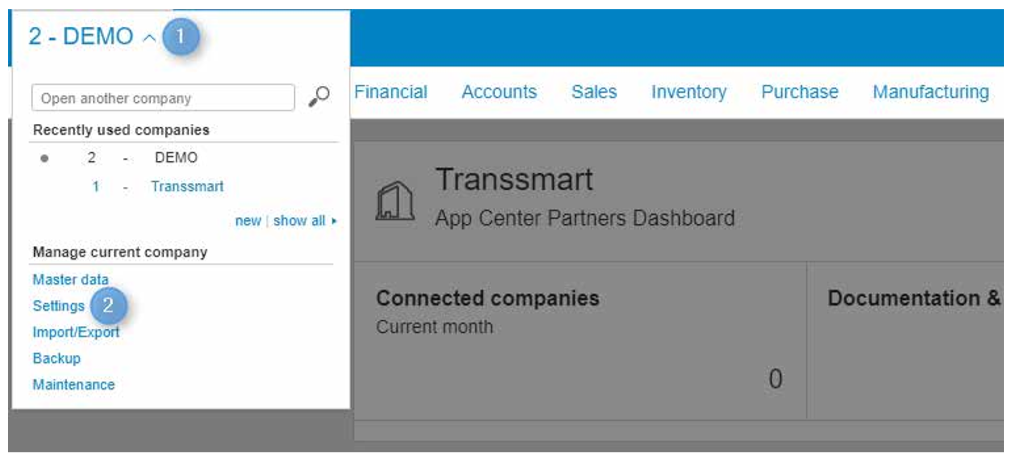 Subsequently, select the tab 'Sales order' and at the right-hand side, you can fill in the Transsmart username and password that you have received from us.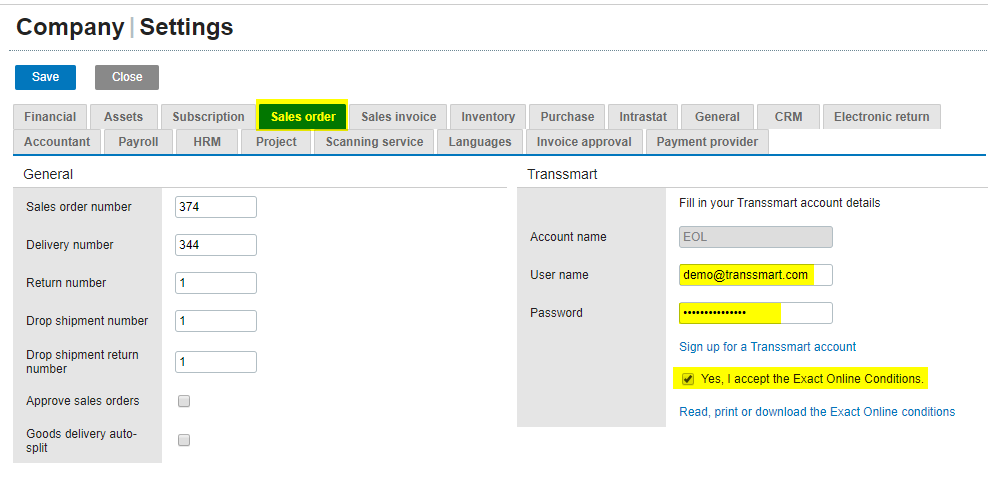 Accept the Exact Online Terms & Conditions and click the button 'Save' at the top left-hand side to save the settings.


Subsequently, restart Exact Online and in 'Sales > Deliveries & Returns > Goods deliveries - History', you will see the following two buttons: 'Send to Transsmart' and 'Transsmart dashboard'.

2. Installing SmartPrint
You will need our SmartPrint application for printing from MyTranssmart. You can download this application via the Transsmart Dashboard. See our manual about installing SmartPrint to complete the installation.

3. Book a shipment and print via Exact Online
When you have printed the packing slip of the order in Exact Online, the order will become visible in your sales history.
Select the shipment(s) concerned and select the button 'Send to Transsmart'. A small globe will appear next to the shipment(s) that was/were sent to Transsmart, indicating that this/these were dispatched.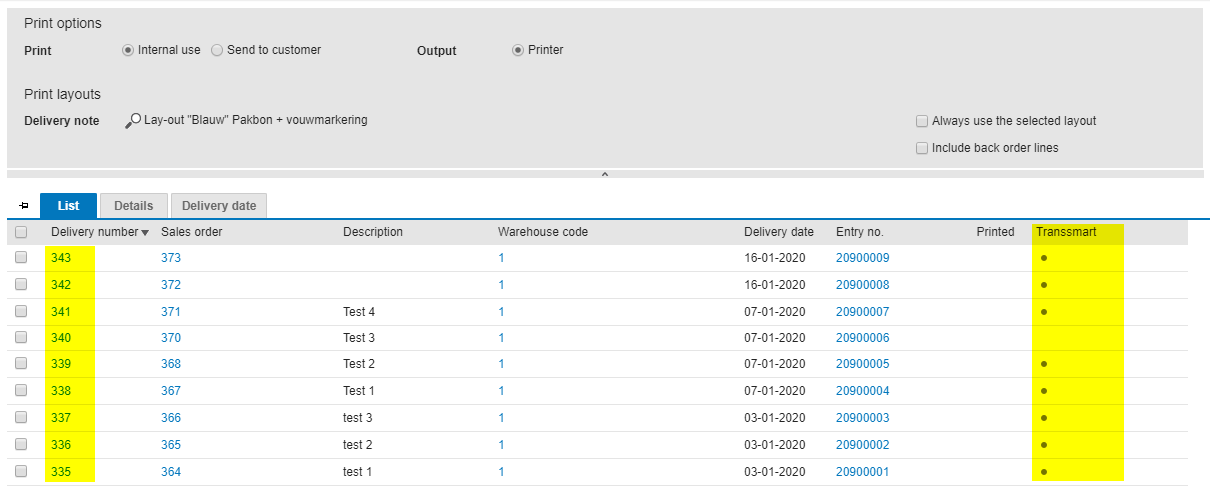 Subsequently, our dashboard will open and you can tick a shipment. You can select 'Book & Print' or separately, first 'Book shipment(s)' and later 'Print label(s)', or – if required – you can adjust the shipment(s) by clicking it/them and going through the various tabs.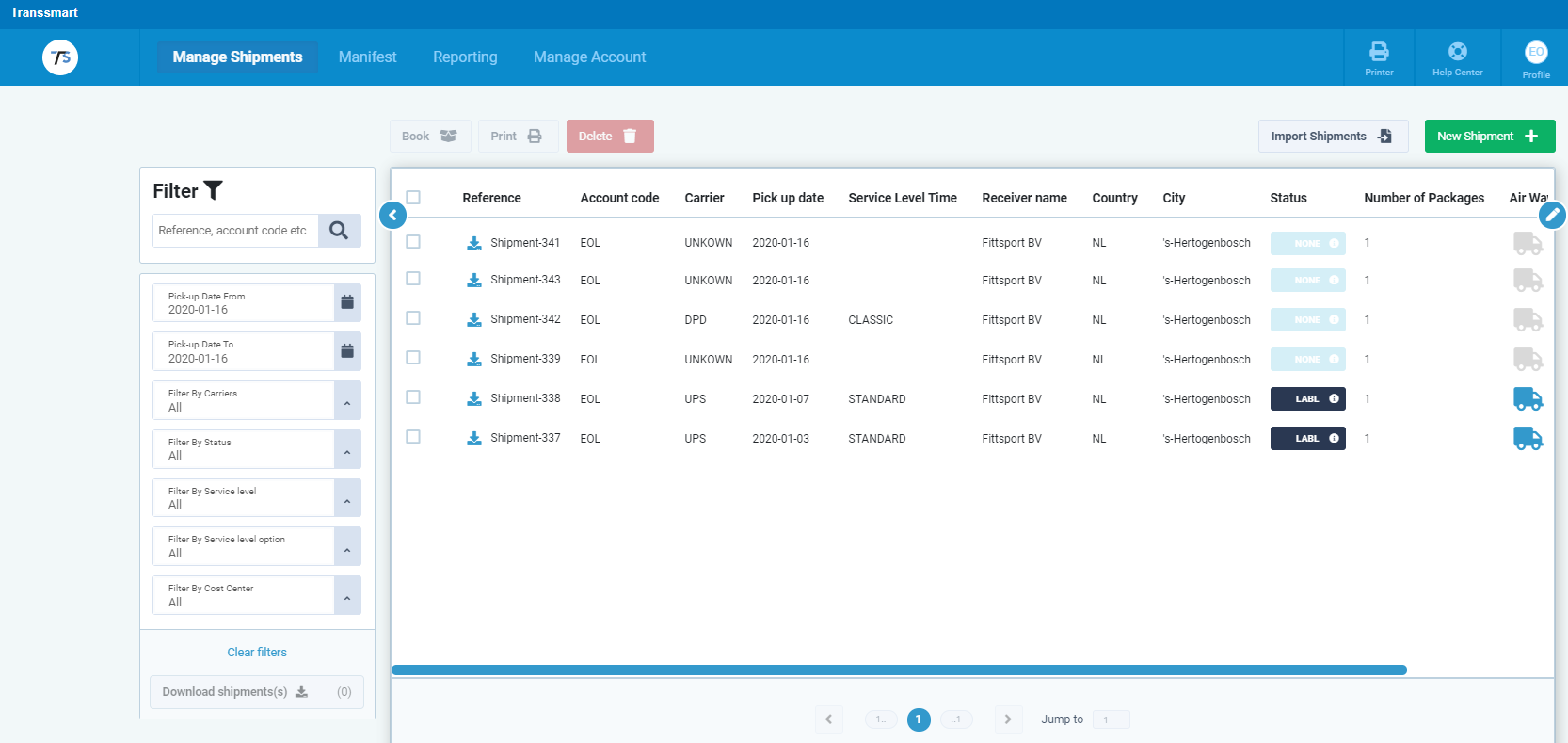 From here forward, please check our other solutions about our MyTranssmart dashboard in our customer portal.