Create a template group
To be able to set up templates, you need the role "Administrator" in MyTranssmart. Do you not have this role? The person who acts as a Transsmart contact person within your organization can give you this role.
1. Go to 'Email Settings' via 'Manage Account' to open the SmartTrack module.
2. Click on "Add Group" and create a template group.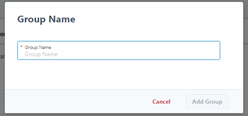 Think carefully in advance which groups you are going to create. You will set up everything based on this. For example, create groups for the different brands or companies you ship for. You can create up to 255 emails per group.
Example:
| | |
| --- | --- |
| Template groep | Templates |
| Company | Company A emails (NL, EN, FR, DE) |
| Sub Company | Company B emails (NL, EN, FR, DE) |
| Pick & pack | Your order is packed and ready for shipping |
| Pick up order | Your order is ready to be picked up |
| Pick up Point | Your order is ready at the Pick up Point |
As you can see, a template group can contain multiple templates. This often concerns multiple language versions of the same email.

Do you already have email templates in your account? Then you can see in the overview which template groups you have and how many templates are linked to them.