Create Carrier
Navigate to Connect > Carriers > Create Carrier and find either; Best Denmark, Best Sweden or Best Norway in the list. Select your preferred carrier and click create.
Fill in your Best Transport Customer Code and you are done with the setup.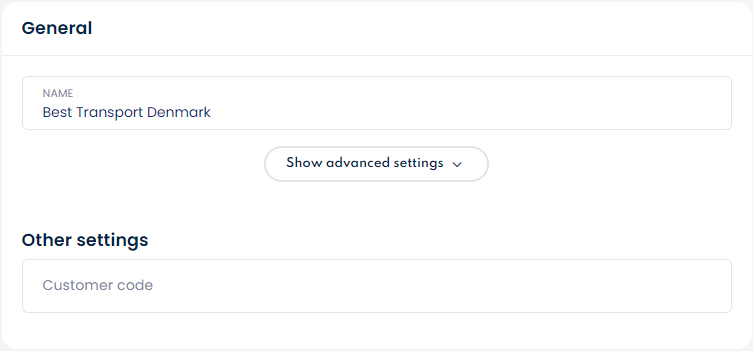 Services currently available
Denmark
Home Delivery Aften

(HomeDeliveryAften)
Norway
Home Delivery Aften

(HomeDeliveryAften)
Sweden
Home Delivery Aften

(HomeDeliveryAften)

Avisering Datumval

(AVIS) (Webshipper approval required)
If you wish to use Best Transport Sweden and apply the service Avisering Datumval (AVIS), then you will need to contact Webshipper to make sure the service is approved before usage.
Limiting Zip Codes on Shipping Rates
Best Transport is not able to check customers' zip codes from checkout through the API, so you have to verify this with Webshipper shipping rate conditions.
When configuring the shipping rate in Webshipper, you will have a section for "Conditions" that looks like this by default:

To start limiting the shipping rate for a specific zip code or zip code range, you can press the "Add rule" button below and set up the conditions like this example:

The shipping rate will now only be offered to customers with a zip code between 11120 and 11124.
You can add as many rules as you need.
Shipping rates
Once you have connected to your carrier, you can start building your desired shipping rates with each of the services available on the carrier.
Simply navigate to Connect > Order channels > Select your channel > Add Shipping rate.
Read more here on how to build shipping rates