A general introduction to setting up shipping methods and rates
Defining the rates as you would like them is one of the key functionalities in Webshipper. You can define them in many different ways and customize them to almost exactly how you like them to be.
First, you need to set up a connection to your carrier agreement - Click here to find a guide to your carrier.
To set up a shipping method go to Connect > Order channels > click on the name of your order channel > Click "Create shipping rate" in the bottom right side of the page.



---
The General section
So when setting up shipping methods with your carrier, you always start from the top and work your way down.

In the General section you can specify:

1. Your shipping method and name of your choice, this will be visible in checkout for most integrations.
2. Your carrier.
3. Inbound or outbound (Standard outbound or inbound as Return rate).
4. The service of your carrier.
5. You can also choose to hide it from your customers so it will not be visible at checkout.
6. Lastly, if you always use the same boxes for packages, you can set pre-set dimensions.
7. Advance settings will allow you to customize input in the label using placeholders.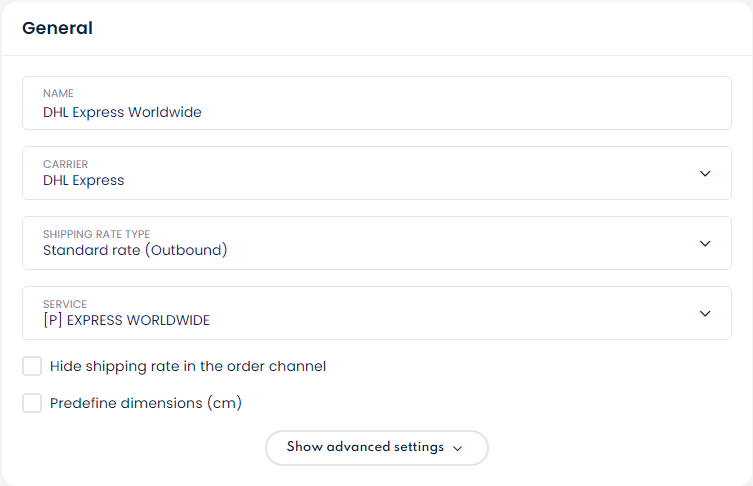 The add-ons section
This section all depends on which carrier you have chosen and will change dynamically depending on the carrier as well as on which selected service in the fields above.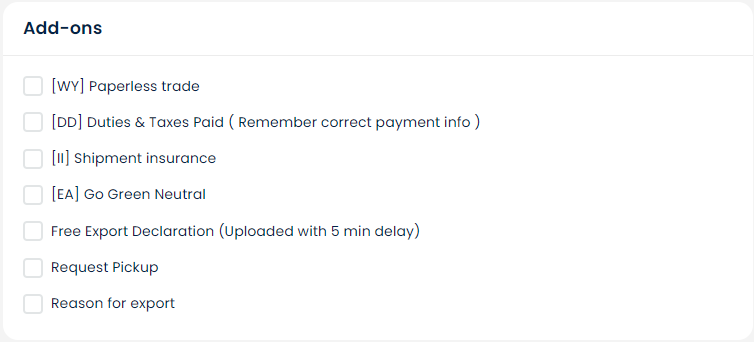 Service parameters
Carriers can require service parameters to define package contents, packing type etc.
Fill out as the carrier requires - some carriers require that you fill in a Shipment description for example.
You can either type in a free text or enter a placeholder.

Notifications
Here you can choose if your selected carrier (in this case UPS) is allowed by you to send SMS and email notifications to your customer directly and inform them of the package is underway, has been delivered, may be held back in customs, etc.
You can also create your own tracking mail in email settings and send it as default every time a customer uses this specific shipping rate. Click here to read more about tracking emails.


Shipping zones
Here you are able to change the zone title, select single countries or multi-select entire continents.
If you wish to have different prices in different countries, simply click the button that says "Add zone" and you can configure different prices between the different zones.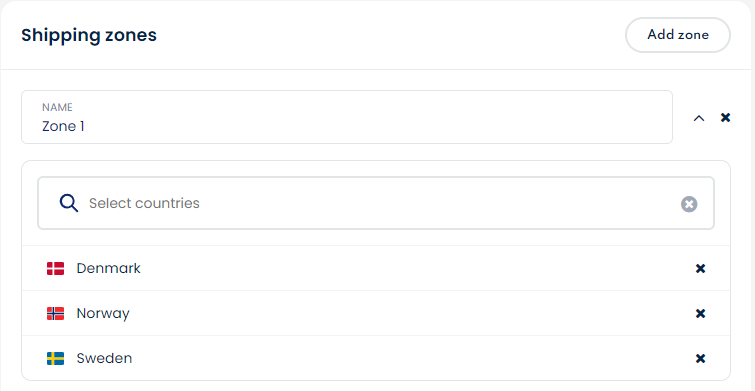 Shipping rates
When you have selected one or more countries for a shipping zone, you are able to define a common shipping rate/price for these countries.
You can have several shipping rates depending on the total weight or total cart amount.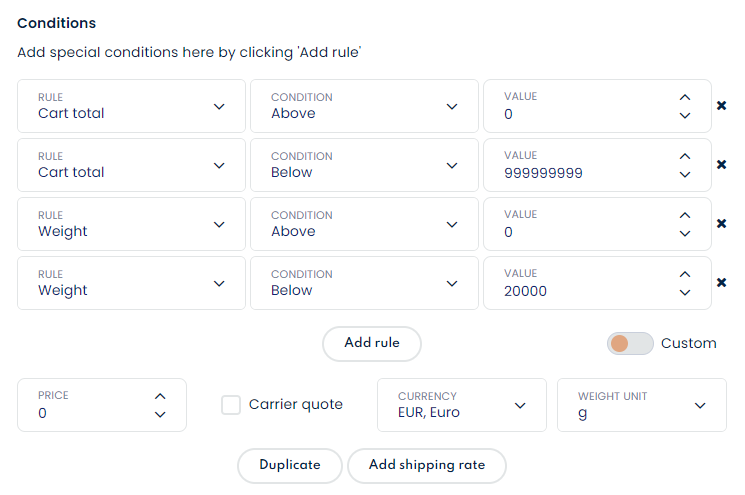 Automatic return shipment
On your shipping rate, you can also choose to always create a return label as well. If you do not have a return shipping method created, you will need to do this before you can select one in the box below.




Once you have created a return shipping method, you can always open your shipping method back up again and add your return shipping method as a default return shipping method here. Once it has been selected, you can choose if you wish to send it via a mail template directly to the customer or just create the label.
Tip: in your order channel settings you can check if it should be printed automatically.



Finally, press update/create shipping rate and your shipping method is complete.