This article will help you get started with nShift Help Center, explain how to contact nShift Customer Service, and how to view and update your open tickets.
Learn how to:
Use the Help Center self-service content
The nShift Help Center contains hundreds of articles, guides, and FAQs to help answer your questions. This section will explain the basics.
Changing the language of your Help Center
Use the language selector to switch between languages. If you are trying to change the language while viewing a page that does not exist in the language you are trying to switch to, you will be redirected to the front page.


Browsing and searching for content
Start by choosing your product to find the most relevant content.


When you click on a product, you will be sent to the product-specific category. All the content here will be related to the selected product. Use the search field to search for content within the category.
The example below shows the DeliveryHub category page. Any searches made here will only return results about DeliveryHub.


If you search from the main page, you will search the entire Help Center across all categories.
It is important to notice what product the results are about to see if an article is relevant for you.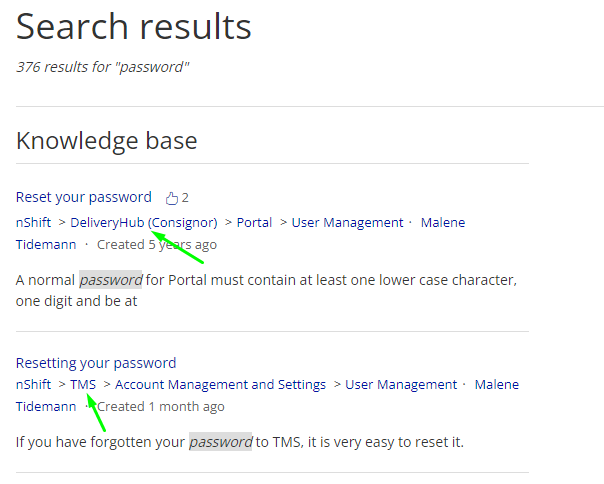 When you are viewing an article, you can always look at the name above the search field, or the breadcrumbs to see what product it is about. The example below is about TMS.


Write to nShift Customer Service
Follow the steps below to get in touch with nShift Customer Service.
Click the Submit a request link.




Fill out the form and click the Submit button. An email will be sent to you with further information. (If you need help to fill out the form, see the next section for more details).


If this is the first time you contact nShift Customer Service, you will receive an email titled nShift welcome email. Click the link in the e-mail to reset/create a password and sign in. You must complete this step before Customer Service receives your request.


Next, you will receive another email with a request ID, confirming that we have received your request. This e-mail will be sent immediately and step 3 skipped if you are already registered in our system.
Fill out the request form
This section will explain how to fill out the request form. Read about each number below the image.


Start by choosing Support to contact Customer Service. (Use Accounting for questions regarding invoices and billing).


Enter your e-mail address.


Enter a subject. A subject is a short header describing your issue/question.


Describe your question/issue in the Description field. The more details you can provide, the easier it is for us to help you.


Choose the correct type of your request.
Administrative: For administrative changes like updates to Help Center articles.
Service request: Changes to your nShift solution, e.g. adding a new carrier, setting up price calculation, modifying an integration etc.
Question: Questions regarding your nShift solution.
Change: A change request for a new feature that is not yet supported by nShift.
Incident: When something has stopped working in your nShift solution.


Choose the nShift product that the request is about.


If you want to attach a file, e.g. screen dump of an error message, photo of a faulty label, etc., drop a file under Attachments or click Add file to browse and locate the file on your computer.


Click Submit to send in the form.
View and update open tickets
It is possible to access an overview of all your requests to nshift Customer Service so you can follow the status and see if we are awaiting a reply from you. You can also add additional information to open tickets.
Go to

nShift Help Center

and click the

Sign in

link at the top.


Sign in with your email and password.

(If you don't have a password, you can read about what to do

here.)




Once you have signed in, you will see your name in the top right-hand corner. Click on your name and choose

My activities.




Under the

Requests

tabs, you will see a list of your tickets. Click on a subject to view the activity on the ticket. If you have a long list of tickets, you can use the

Status

drop-down list to sort the view. Choosing

Awaiting your reply

will show you any requests where Customer Service is awaiting a response from you.




You can always write new comments and add files to an open Ticket. Click on a subject and go to the field Add to conversation.




Write a comment in the text field or add a file. Click Submit to save. Customer Service will automatically be notified of your update.




Getting a password
Follow these steps if you have submitted a request but never signed in to the nShift Help Center before:
Click the

Get a password

link on the Sign in page.




Enter the same email address you used in your previous request and click

Submit. You will receive an email with instructions on how to create a new password.




Follow the instructions in the email to create a new password and sign in to the Help Center.
Escalate a ticket
Follow these steps if you need to escalate a ticket:
Sign in to nShift Help Center and go to My Activities > Requests. (See steps 1-4 under View and update open Tickets).


Click on the ticket you want to escalate and go to the field Add to conversation.


Write #escalate and a message to customer service in the text field.




Click Submit. Customer Service will now be notified of your escalation.